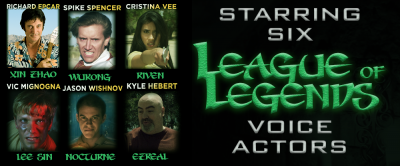 If you like playing League of Legends, then you'll want to see Broken Spirits. You'll not only get to hear the voice of Riven and Lee Sin in the film, but see Cristina Vee and Vic Mignogna acting in a live action feature.
The film also stars Richard Epcar, Jason Wishnov, Spike Spencer and even Kyle Hebert has a cameo. How did this happen? The executive producer, Stephen Weese, is an anime and video game voice over artist, and brought the cast together for this project. Who knows, maybe even more Broken Spirits actors will have a role as a League character in the future?
Check out our trailer or our cast list for more!