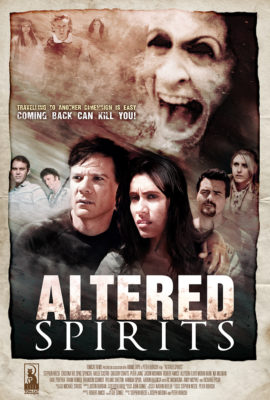 Altered Spirits has been released on Amazon for streaming and DVD! The DVD has commentary with Stephen Weese,  Richard Epcar and Cristina Vee and also deleted scenes!
Altered Spirits (formerly Broken Spirits) is an HD sci-fi/action feature film about four young people who are pulled into an alternate dimension and must fight evil, undead spirits to get back before time runs out.
Starring Stephen Weese, Vic Mignogna, Richard Epcar, Spike Spencer and Cristina Vee – widely recognized for their roles in high profile Japanese animation films, series and video games such as Full Metal Alchemist, Ghost in the Shell, Mortal Kombat, Resident Evil 6 and Neon Genesis Evangelion. Also featured is Andy McPhee (Sons of Anarchy.)
Directed by Peter Bohush (Geezers, 9-10: The Day Before), the film was shot in on the RED MX camera in widescreen HD on location in Southern California. It is now completed! The film contains more than 250 special effects shots.
Broken Spirits is produced by Finch Hollow Productions, in association with Anime Expo.
It will be distributed worldwide by TomCat films. 
Browse this site for cast bios and videos, location pictures, production notes, script samples and more.
Read More