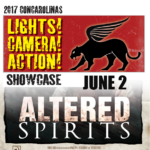 We are happy to announce that the sci-fi convention ConCarolinas will be screening Altered Spirits!
The event will be Friday evening, June 2nd, at 8:00pm – 9:30pm in room Lakeshore I.
Every year ConCarolinas has a special screening event and this year Altered Spirits is the featured attraction.
ConCarolinas is at Hilton Charlotte University Place in Charlotte, NC, see their website for more details.