Want to be at the red carpet premiere? Come to Anime Los Angeles in January where we will be having a major red carpet screening and event!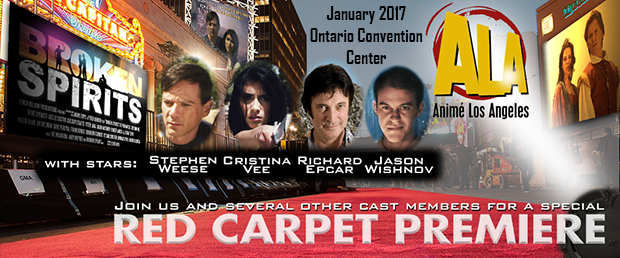 When: January 28th, 2pm
Where: Ontario Convention Center
Register: Anime Los Angeles
We will be having:
Red carpet (2pm)
Full feature screening (2:30-4pm)
Q&A with cast members including Richard Epcar and Cristina Vee (4-5)
Special giveaway of unique items and props (4pm)
ALA special event Broken Spirits poster and signing (5-6pm)
After party with cast (late night)
Also Stephen Weese will be there along with stars Andy McPhee from Sons of Anarchy, Jason Wishnov, Peter Jang, Dave Pereyra, Allyson Floyd, and Greg Crafts.*
This is your chance to see the movie, get some unique promotional items, hang out with cast, and possibly come home with a movie prop!
Don't miss it, we will see you at Anime Los Angeles 2017 in January!
*Schedules/guests may change